I fucking hate WP.  I also fucking hate self-hosted blogging today.
1) The WP-hosted app on my phone ate my comments on your blogs.  With the exception of one or two of you yesterday (Hi, Noods!), they were ALL sucked up by the ether.
2) I just wrote a very nice, organized post about #1 and the self-hosted site ATE THE POST.  Is it a conspiracy?!  Does Mr. Internet hate me today?!
sigh
So, I'll try to recreate what I just spent 45 minutes doing in about 10.
Long story short, my WP-app on my phone has both my WP-hosted and my self-hosted blogs.  I use the self-hosted one to create posts and respond to comments from you all and I thought I was using the WP-hosted one for liking and commenting to those of you in my WP reader (the self-hosted one doesn't have a reader within it).  I now know definitively that it is unreliable: I spent the better part of an hour yesterday morning responding to a handful of you and most of them never posted.  And this has been going on for months!!
I can go the way of the crazy person and think that you all hate me or I can go the way of the reasonable person and blame WP for the disappearances.
My only point to this is that I want you all to know that I have been responding and connecting to you.  Problem is, you've had no idea!  It's like I RSVP'd to your party, but showed up in the Invisibility Cloak.   Fucking fuckity fuck.  It makes my gut ache to think of all the comments I've attempted to leave since March; I must have appeared much more absent than I actually was.  /sad face.
To avoid future snafus, I'll be relying on Bloglovin' from here on out and you might want to follow my blog with Bloglovin, too, if you're unhappy with your current system.  I like how they're organized and I especially like the naked lady.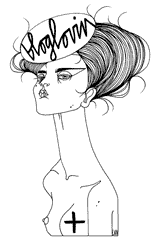 In lieu of going back and trying to recreate the magic, I'm going to list the posts I responded to yesterday because I found them to be beautiful, relatable, hot, interesting and/or touching:
Cara – Dangling (my comment posted, but I wasn't notified of her response)
'Tis – In one year
Jayne – I am courting hopelessness and I am wrung
Dawn – Sweets
The Lively Wife – On this side and on that side
Elle – My hands
The whole point of me going self-hosted was to avoid getting shut down for Terms of Services violations and to possibly monetize the site somehow.  Guess it's time I get on that latter point to make all this worth it, huh?  Otherwise this all just feels like an exercise in futility.

So, that's that, I guess.
Aaaaaaaand, now I'm spent.  Sexy post I was writing simultaneously will be up later.

xx
Hy